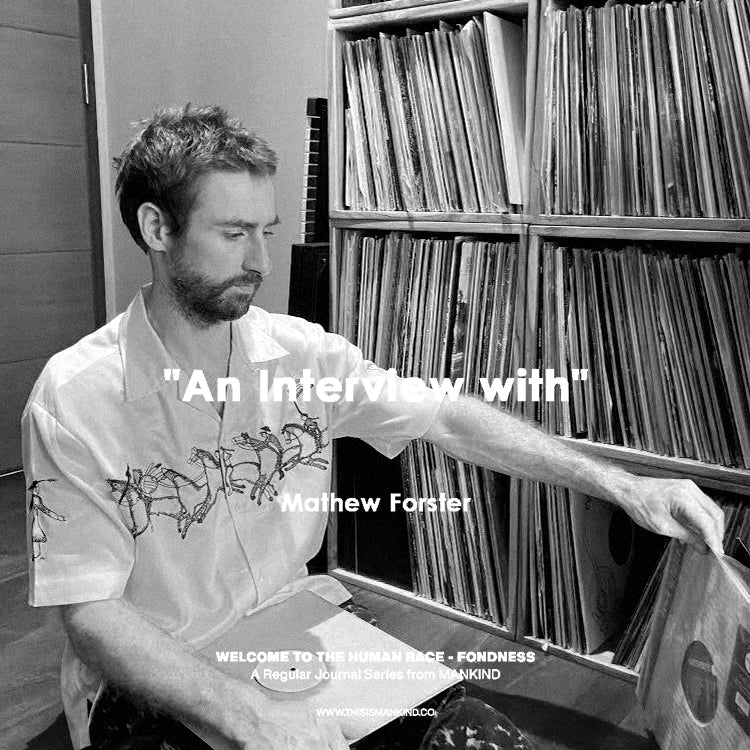 In the first series of Welcome to The Human Race - Fondness talking about a sense of living, home, and freedom. We had a chance to talk with Mathew Forster a multi-disciplinary brand consultant working within the retail and wholesale business of brands including Paul Smith, Maharishi, Levi's, G-Star, Dr. Martens, and Fila.
Could you tell us a bit about yourself?
I'm from the UK, born and raised in the North East of England not too far from Scotland. It's cold a lot of time up there got a lot of fresh air, the landscape and you know it's something that you take for granted when you kinda live up there. I realized when you kinda move away from where you grew up it kinda makes me think that those little things it's important like family, the fresh air, and to gone from there to where I'm now.
Can we run through your creative journeys?
I moved to London in my early 20's to getting to work after graduating from college and growing up with the club culture having a lot in mind you know between work, partying and DJ-ing on the side to make some earn and it's just when you reflecting on things as a kid when u growing up it's quite an interesting one and take me to another stage of life. So I start working in the business side of the industry with some local based brands and later on naturally by seeing it what happened in the industry, fashion and the scenery it's inspired me to explore more on the creative sides into products development, design and collaboration while I'm working with a brand. It's been a great journey for me so far that I had a chance to work with some brand such a paul smith, Dr.Martens, G star, and Levi's back in the days it's an experience in shaping my attitude and mindset.
What was your first break and what was your dream back then?
I think graduating from college and moving to London to take a bigger step and jumping into the professional world was my first brake. Learning and having a lot of experiences by working with brands especially with fila for example having that opportunity to tell a story of the brand from the past and be able to retell it into an inspired new collection of products it's a challenging and big break for me as well.
What's the thing that you currently pursuing or that you haven't had a chance to?
I currently working on the sustainability projects along with my colleagues and team, and I think with the situation right now it kinda taught us like as the world needs a break a bit from all of the production, all of the consumption but at the same time, we couldn't stop that so yea I wanting to push the sustainability ideas more. Also when you breakdown objectively in this situation family is the closest thing to start on and for me it's
the most priority right now.
What have this situation taught you and how's home feels like to you right now? Especially in this situation
I'm working from home now and it's fine for me starting my routine by waking up early do a bit of exercise especially breathing one it's the thing that makes me sane lately, also doing homeschooling stuff for Ethan my kid that's quite a challenge as well, but I guess in this time having a lot of time to spend and being around with my family it's the thing that I
cherish the most right now.
When did you first discover fashion?
Since I was a kid I think being around with a bunch of sports brand also supreme, stone island and later on when I moved to London that's when I discover more for sure.
What are your favourite brands? And what is your essential?
I'm more into the quality of the products and the durability, Like I had this stripe Margiela long sleeve t-shirt that's been going for ages with me and it's still my favourite. So when talking about favourite brands I think I'll talk a bit more about the product which at the moment tech gear or workwear are the most that I'm interested in. But since I'm in Bali right now a comfy t-shirt, short and vans shoes that's enough for me haha.
If you had a chance to call/meet someone you admire, who would that be? And let them know why you appreciate them
God, I mean if I could talk straight to it without going through the middle man in seeking an answer and also truth.
---