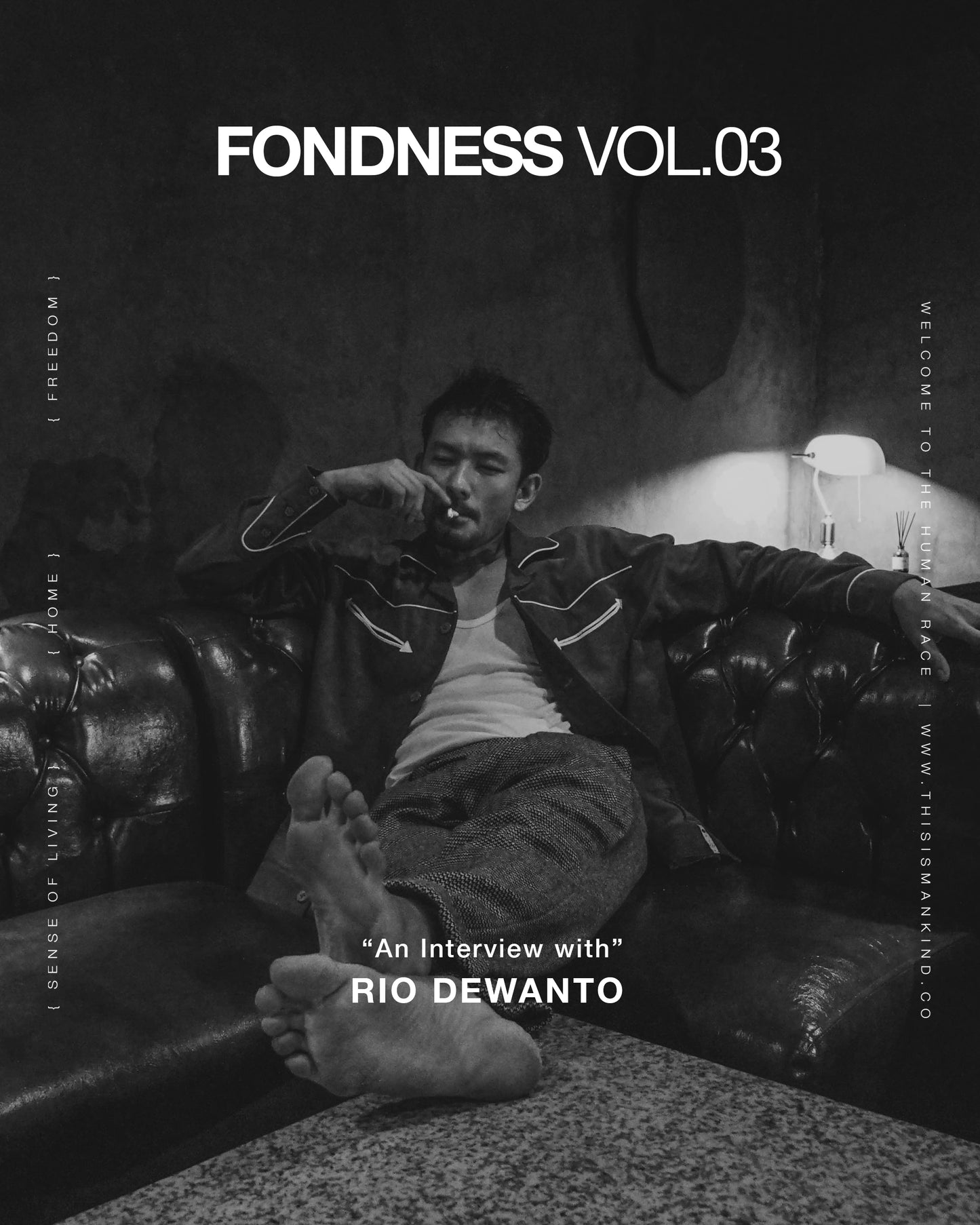 In the second episode of the third volume of Welcome to The Human Race - Fondness, we had a chance to talk with Rio Dewanto, @riodewanto about his career, creative process, lifestyle, and inspiration. Rio Dewanto is an Indonesian entertainer who has a critically-acclaimed career in various fields spanning more than a decade. His continuously-growing influence has embedded his pivotal role in Indonesia's entertainment industry and actively engaged in a number of top-notch movies and series.

Could you introduce yourself? What are you working on right now?
I'm Rio Dewanto and I'm an artist, focusing on acting. I'm currently working on an upcoming film for one of OTT Platforms for next month's production, and now I'm preparing the process of delving into the scripts, scenarios and any other training. Besides that, I'm also running a bar or "underground nightclub'' in South Jakarta, called Nebula.

Let's talk about your journey! What did it take to get in your current position right now?
It has been a super long journey. It's been more than a decade, 12 years precisely in this industry and it's been a lifetime process for me. It all started in 2010 when I took part in a casting, and in the same year I also got an opportunity to act in my first role. There were so many experiences that went beyond my expectations as I never expected anything. Besides that, I also was an opportunist, exploiting circumstances to gain advantage.  I remember, by the time when I was young, I was such an egoistic and competitive person. I always compare myself to others, such an ambitious kind of person. And I think having a child and being in the fatherhood circumstance is like my turning point, that side of myself began to ease slowly. It also encourages me to be more focused on being a father, a husband, and also running my own business at the same time.

What does acting mean to you? Tell us your very unforgettable moment!
When I first jumped into the acting industry, I can say that I only did it merely for money, reputation, and networking as I thought that it would be very valuable in the future. I was so naive to not think about the essence of acting itself. And it's finally come to the point where I jumped in and learned deeper about the process. I was once in a theater that was very conservative. It took almost a year to produce and I gained a lot of knowledge from that back then. I realized that it's not only about money. I dedicated all of my soul and exerted all my energy for this art that has a very long history. Surprisingly, this is the field that becomes my main source of income. 
Regarding the most unforgettable moment. In every project, I always position myself from zero in order to always have a mindset of there is always something new to learn. I can't be stubborn and act like I know everything. Once I feel that way, that would lead to many problems, like my career, the project itself, and the character. There have always been enthralling moments once I practice that. That's also what makes me realize that at some point, not only the elders that teach you to value, but you can also learn that from the youngsters.

Having everything on the table is quite complicated, is there any tip for being organized and productive?

I think it's decent enough to call myself a well-organized person. In fact, even until now I don't have an exclusive manager to manage all my entertainment stuff. But that doesn't mean that I'm stingy. It's all about challenging myself to stay active both in the entertainment industry and in my daily life as a father and also a husband. I also keep my hands-on when it comes to parenting. I protectively take responsibility in many household things like looking after my kids and fulfilling their needs, along with my wife, even though she takes a major position.

Would you name a person that you credit the most in your career?
I think it would be my wife. She has been connected to this industry for a long time. We always trained in every movie preparation together at her mother's workshop back then. We also practiced our senses in order to get our body relaxed, as that's the most vital instrument in acting. 
Regarding Nebula, I got the inspiration from my late father-in-law when I moved into his house in early marriage. He had an iconic discotheque called Tanamur, the first-ever discotheque in Indonesia, even in Southeast Asia if I'm not mistaken. He has a rack full of envious and rare vinyl collections like the 60s and 70s disco, techno, electronic, which now all of them were moved to Nebula. So, when you go inside Nebula, you will find them right away in the right corner, racks full of vinyl - there's still the Tanamur stamp on it. It's like a library. I felt like these all are a part of the nation's music history, and it would be so vain if there were no one taking care of them.

Who was your idol growing up?
I've been a huge fan of Marlon Brando since I was in middle school. He's such a charismatic person. I also watched a bunch of his interviews, and I think that he's well-deserved to be appreciated and loved for his achievement and work. One thing that I adore the most is that he delivers such immense energy to the audience in every project he's working on. It was very incomparable. 

What's your version of self-care?
I can say that I barely take my body care into account. I feel like I have no particular concern or interest in taking care of them. I know it's kind of a mistake. But when it comes to outfitting selection, it always gets me immersed and I can say that I'm quite consumptive. Maybe my version of self-care is curating and buying clothes based on what I like.


What song do you sing in the shower?
As I grew up in the growth of alternative rock in the 90s like Nirvana and The Beatles. Actually, not only in the shower, but I also give my kids a listen. For example, Obladi Oblada and Blackbird because I can play the guitar.  It's also a way for me to get my kids to have an interest in music.

How would you describe your outfit preference or how you dress?
Actually, I'm not the kind of person that has the confidence to wear such colorful, heavy graphic, and full-patterned clothes. But if I'm at one occasion that requires me to dress like that, I think it will still be okay, as long as it is not my everyday wear. 
Comfort is the main concern for me, while design that pays attention to details comes second. For example Mankind. Beside its highly-developed products, they also deliver and offer such groundbreaking details into every pair of their products, which are only owned by them. When I first saw Mankind, I instantly realized that it was a must-have item. It's like a signature and I can't find it in other brands.
 
What is your favorite brand? And what is your essential?
It'd sound cliche if I mention Mankind. But I have a huge spirit to support local practitioners who have strong fundamental characteristics and storytelling. For example, if Mankind drops a new collection, I really wish that I could be the first person to get the access. Sadly, most of the time I run out of stock. 
In my opinion, there are only a few local brands that have strong characteristics. So, when there is one, it should be supported and respected. If not us, then who else? I was also exposed to Japanese brands, especially Visvim, which I spent a lot of money on in my early career and had no kids. The reason why I bought Visvim is because of the investment purpose. I once sold my preloved and the price went higher and I still got the profit. Other than that, they also have a strong foundation in product research and development. There's always an intriguing story behind every product, and I think that's what makes it worth the money.  It's kind of art for me. You're not just buying shoes, but you buy the story behind the brand such as Hiroki. That's what makes it pricey. The same also goes to Mankind. I'm not only buying a jacket, but their strength in character is the reason why I buy the jacket. Besides that, Deva States also comes into my mind when talking about brands. I really like Deva States. It feels like I'm buying clothes that represent designers, and that's what makes me hooked. However, there are more well-built local brands that I can't mention. And that drove me to have a high-level of awareness and concern on how I actively and continuously support local brands, local artists, and local music. 
With regards to supporting local music, that's the reason why I created Nebula. The music is very attentively-curated and I want Nebula to become a home for the underground electronic music scene in Indonesia. It's kind of ups and downs during the pandemic, but I already felt the energy when the regulations were loosened. Maybe that's because I directly construct Nebula, since I'm a type of handyman person. I even designed the interior single-handedly, along with only one worker. Actually, I made a video of me constructing Nebula and planned to release it. However, I canceled it because I thought it would be better if Nebula independently grew up without me.